About Us
About the Company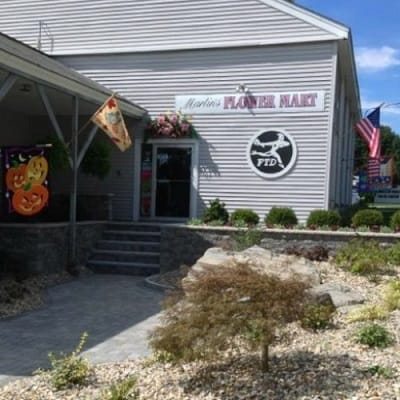 Welcome to Martin's Flowers and Gifts where flowers are not only our passion, but have been our business for over 35 years.
We love to create. Each arrangement is custom made, based on your unique vision, to compliment any and every special event. We create more than just signature floral designing, we create unique works of art. We pride ourselves in utilizing only the freshest of the world's flowers to exceed the ordinary and design the extrodinary.
Our attention to detail and our outstanding customer service is why the broad range of our satisfied customers keep coming back. It's the key to our success.
We are your neighborhood florist located at 500 Jackson St, Methuen, MA. Stop by the shop and see our daily floral arrangements, browse our line of extensive and unique gifts or satisfy your sweet tooth at The Candy Shoppe. You're the reason we're here!
We welcome the opportunity to provide any of our custom designs you select online, or call us at the shop if you have something special in mind. We happily answer the phone seven days a week from 7AM to 9PM. In Massachusetts, we deliver every day to Methuen, Lawrence, Dracut, Lowell, North Andover, Andover, Bradford, Haverhill and Tewksbury. In New Hampshire we deliver to Salem, Atkinson, Derry, Londonderry, Plaistow and Windham.
Thank you Merrimack Valley for allowing us to be your florist. We hope to serve you soon.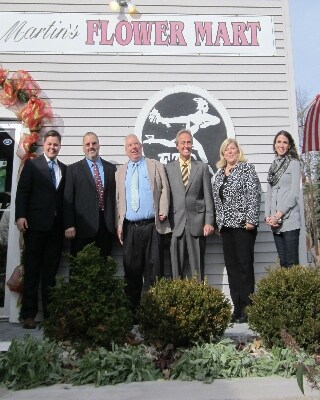 Martins Flowers & Gifts
500 Jackson Street
Methuen, MA 01844
---
Store Hours:*
*Our shop is open Monday thru Friday 8:00AM - 5:00PM, Saturday 9:00AM - 2:00PM.
We are cloded on Sundays.

Phones answered 7 days a week from 7AM til 9PM

Please call the shop for special holiday hours or visit our Facebook Page for updated hours notifications during the holidays.

To help assure on-time delivery during the busy holiday season, please consider placing your order at least 24 hours in advance of delivery time during these major holidays: Thanksgiving Day Christmas Day New Year's Day Valentine's Day Easter Administrative Professionals Week Mother's Day

Our shop is closed on the following holidays: Christmas Day New Year's Day Memorial Day Independence Day Labor Day
Our Guarantee to You

We are committed to complete satisfaction. If for any reason you're not satisfied with your order, please call the shop at (978)689-8104 and speak with a representative.
Payment Options
We accept the following payment methods:
Visa
MasterCard
Discover/NOVUS
American Express
Contact Information
If you have any questions or need more information, please call us directly at (978)689-8104 or email us at scott@martinsflowermart.com. We're always here to serve you and make your flower-sending experience a pleasure.
Martins Flowers & Gifts
500 Jackson Street
Methuen, MA 01844
Specialty Services
We specialize in the following:
Fresh flower arrangements
Tropical flowers
European/dish gardens
Contemporary and traditional arrangements
High-style and European floral design
Funeral designs to celebrate a life well lived
Extensive gift line, Chocolates & Fudge
Candy Bouquets
Gourmet and fruit baskets
Gift baskets, Plush Animals
Unique gifts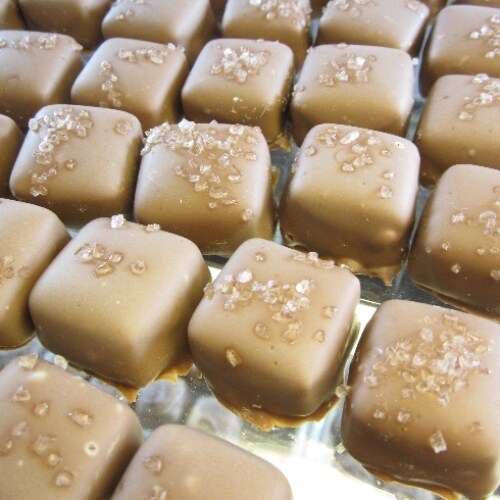 Areas Served
Our shop serves the following areas: Methuen, Lawrence, Andover, North Andover, Haverhill, Bradford, Lowell, Tewksbury and Dracut in MA and in NH: Salem, Windham, Plaistow and Atkinson.
We also deliver to the following facilities:
Funeral Homes:
Charles F Dewhirst Funeral
Kenneth H Pollard Funeral Home
Burke-Magliozzi Funeral Home
All assisted living, skilled care and traditional nursing homes in Greater Lawrence and Merrimack Valley.
Nevins Nursing & Rehab Ct.
All hospitals in Greater Lawrence and Merrimack Valley.
Holy Family Hospital & Med Ctr
Merrimack Valley Hosp
Lawrence General Hosp.
Delivery Policy
A local delivery fee of 10.00 will be added to each order. (For deliveries outside our local delivery area, this fee may vary.)

U.S. orders must be received before 12:00 p.m. in the recipient's time zone to assure same-day delivery. Orders received after that time may be delivered the following day.

We will do our best to accommodate deliveries at specific times of day, but we cannot guarantee it. We offer a rush delivery service for an additional $20.00. This service is offered as available.

Delivery of orders to rural route addresses or cemeteries cannot be guaranteed.

We will be happy to accept your international orders if you call our shop directly. We are unable to accept international orders over the Internet.
Substitution Policy
Occasionally, substitutions may be necessary to create your bouquet due to the availability of certain flowers in various parts of the country. Care is taken to maintain the style, theme and color scheme of the arrangement, using flowers of equal value.
Additionally, the substitution of certain keepsake items may be necessary due to increased demand, especially during major holidays.
In single-flower arrangements, such as an all rose bouquet, or orchids, we will make every attempt to match the flower type, but may substitute with another color.
Privacy Policy
Welcome to the MyTeleflora Web Site, www.MyTeleflora.com (the "Site"), a website provided by Teleflora LLC ("we", "us" or "our"). We value the trust of our member florists and are committed to protecting your privacy and your customer data in all aspects of our business. To ensure that we maintain this trust, we are providing you with this Privacy Policy created to demonstrate our firm commitment to protecting your privacy and the privacy of your customers.
Information We Collect
Personally Identifiable Information
If you open an account on our Site or set-up a shop, we ask that you provide us with certain personally identifiable information to complete your transaction. The types of personally identifiable information that may be collected include: your name (including, first and last), name of your shop, address, e-mail address and shop services (i.e., POS system, eFlorist, etc.). We may also ask for security questions and answers for purposes of resetting passwords when necessary. For purposes of user verification, we may ask for the last 4 digits of your Social Security number. By providing your personal information on our Site, you consent to allow us to use that information in accordance with this Privacy Policy.
Any information you disclose voluntarily on our Site or in any forum and blogs that we may develop in the future becomes public information. We cannot control the actions of our Site users and advise you to use your discretion in sharing information about yourself on the Internet. All information sharing is optional and done so at your own risk.
Non-Personally Identifiable Information
We also may collect certain non-personally identifiable information when you visit many of our web pages, such as the type of browser you are using (e.g., Fire Fox, Internet Explorer), the type of operating system you are using, (e.g., Windows Vista, Mac OS), the domain name of your Internet service provider (e.g., Comcast, AT&T), the name of the web pages you visit, the time you access our web pages, and the length of time you stay on those pages.
We collect this information in order to determine which areas of our Site are most popular and to enhance your experience with our Site. This information may also be shared with third parties on an aggregate and non-personally identifiable basis. However, please be assured that this information will in no way personally identify you or any other visitors of our Site.
Our Site uses Google Analytics and Omniture, or other third party web analytics services. Such services may record mouse clicks, mouse movements, scrolling activity as well as any text you type in this Site. The services do not collect personally identifiable information that you do not voluntarily enter in this Site. The services do not track your browsing habits across websites which do not use the service. For more information on these services, please visit: www.google.com/analytics and www.omniture.com.
Our Use and Disclosure of Customer Information
Credit Card Transactions
We never use customer credit card data for marketing purposes.
Teleflora.com Orders
When a customer makes a purchase at Teleflora.com, none of their personally identifiable information is passed along to the fulfilling Teleflora florist. Only the order information and the recipient's information (e.g., recipient's name, address, e-mail address and telephone number) are passed along so that the fulfilling florist may complete the order. The handling of such information shall be governed by the Teleflora.com Privacy Policy. A current version of the Teleflora.com Privacy Policy can be viewed at Teleflora.com.
Teleflora's Findaflorist.com Site and eFlorist Sites
We do not interact with or market to customers who use these sites.
24 Hour Flowers Service
Any information we receive through the 24 Hour Flowers system is kept for customer services purposes only (e.g., to track and verify order fulfillment) and is passed along to the receiving florist. We do not collect customer e-mail addresses or any other data for the purpose of marketing directly to such customers.
Our Use and Disclosure of Your Information
When opening an account or setting up a shop, you have an opportunity to opt-in or opt-out from receiving emails from us. If you opt-in to receive information from us, we may use your user history, contact information and other registration information to provide you with more relevant information and email content. We may send emails to our users regarding changes in our services or other information we believe will be of interest to our users. If you prefer not to receive these emails, you can send us an email with the subject line "no emails" or reply to our email with the subject line "no emails".
If you send us personal correspondence, such as emails or letters, or if other users or third parties send us correspondence about your activities on our site, we may collect such information. We may use that information and other information that we obtain from your use of our Site to resolve disputes, troubleshoot problems and enforce our agreement for Terms of Use.
We may share aggregate statistics about our sales, traffic patterns and related site information with other businesses, but these statistics will include no personally identifying information.
We may share your information with our affiliates and other reputable vendors for the purpose of sending out special offers via email and/ or in connection with the services provided by our Site such as the delivery of flowers. Your information will not be shared for any other purpose and will be kept secured. We may, from time to time, offer content (e.g., contest, sweepstakes or promotions) that is sponsored by or cobranded with identified third parties, including affiliated businesses. By virtue of these relationships, the third parties may obtain personally identifiable information that users voluntarily submit to participate in the activity. We have no control over these third parties' use of this information. Since these third parties will use your information in accordance with their own privacy practices, you should check their websites for information regarding their privacy policies.
We cannot ensure that all of your private communications and other personally identifiable information will never be disclosed in ways not otherwise described in this Privacy Policy. For example, we may be required to disclose informationto the government or third parties under certain circumstances, or third parties may unlawfully intercept or access transmissions or private communications. We can (and you authorize us to) disclose any information about you to law enforcement or other government officials as we, in our sole discretion, believe necessary or appropriate in connection with an investigation of fraud, intellectual property infringements, or other activity that may be illegal or may expose us to legal liability.
Cookies
"Cookies" are small files which store certain information about your activity on the Site and are stored on your computer's hard drive. Our cookies do not contain any personally identifying information. We use cookies to let us know that you are a prior user, so that you don't have to reenter information you gave us on your prior visits. Most web browsers automatically accept cookies, but most allow you to instruct your browser to prevent the use of cookies. However, if you disable cookies, you will not be able to use certain features of this website.
Security
This Site has security measures in place to protect the loss, misuse and alteration of the information under our control. All credit card information is securely communicated using secure socket layer (SSL) software, which is the industry standard and among the best software available for secure commerce transactions. All user information stored on our server is stored in an encrypted format. Notwithstanding these efforts, we caution you that "perfect security" does not exist on the Internet.
Linked Sites
If this Site contains any links to other websites, we are not responsible for the privacy practices or the content of such websites.
Changes to Privacy Polic - Consent
We may update this Privacy Policy from time to time. You should check this page periodically for changes. By using our Site, you consent to the collection and use of your information by us as described in this Privacy Policy.
Questions and Comments
If you have any questions or comments about this Privacy Policy or its implementation, you may contact us at: Teleflora LLC 11444 West Olympic Boulevard, 10th Floor Los Angeles, California 90064 Attention: Chief Legal Officer Telephone: (310) 966-5700 E-mail: legalinfo@teleflora.com
Last Updated: December 3, 2009